Australia Wine Regions: Not Just Shiraz
25 May 2020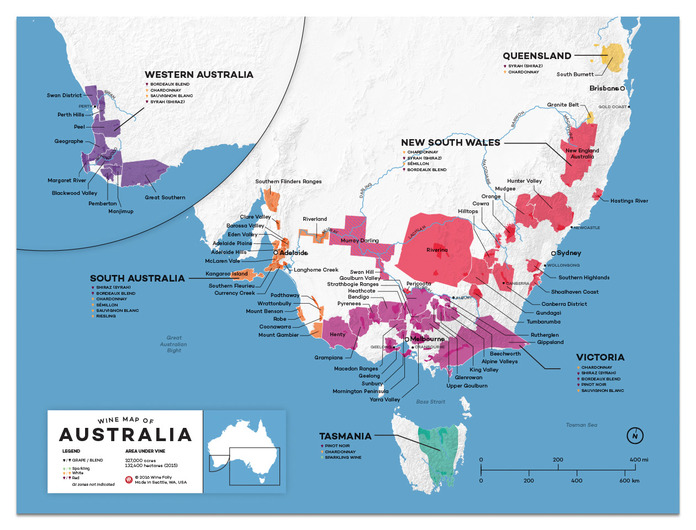 Top Australia Wine Regions
The three major wine regions in Australia by sheer volume are South Australia, New South Wales and Victoria.
South Australia and New South Wales are known for their warmer climate varieties such as Shiraz and Cabernet Sauvignon whereas Victoria is known for cool climate-loving Pinot Noir.
South Australia
Adelaide is the hub of the largest wine-growing region in Australia. A few miles from Adelaide (the largest city in SA) is Barossa Valley, South Australia's most prestigious growing area. It's interesting to note that the majority of the wine from the area is actually grown in Lower Murray and Fleurieu (see the geeky list of Geographic Indications below)
Barossa Valley–oldest living vineyards in the world?!
45 minutes from Adelaide are the rolling hills of Barossa Valley. The region is unique because of its isolation from the rest of the world. Phylloxera hasn't yet infected vineyard soils in Barossa, which means it's home to some of the oldest living vineyards in the world.
What to seek out from South Australia
Old Vine Shiraz is definitely top-notch, it's both smoky and rich with spice. Famous producers in the area include Penfolds, Elderton, and Rockford. Keep your eyes peeled for red blends called GSM: Grenache, Syrah, and Mourvèdre –The major blending grapes used in French Southern Rhone wines.
Barossa Valley is flanked by two famous regions for white wine. Clare Valley produces some of the richest Riesling in Australia and Eden Valley is known for its very minerally and dry Rieslings.